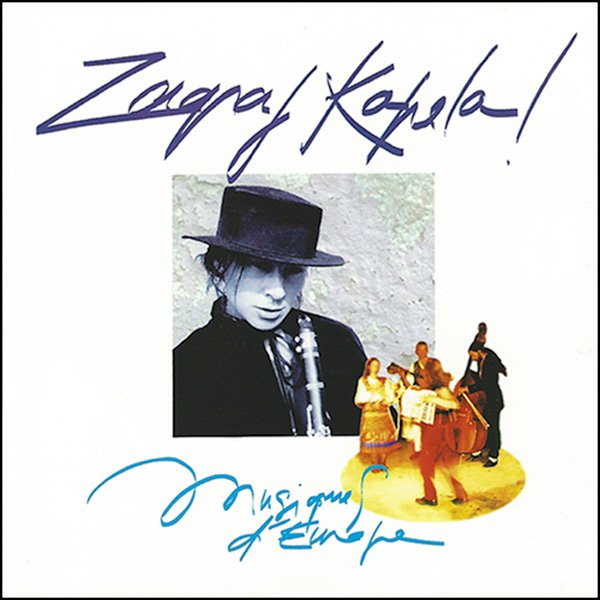 Kapela est un groupe de musiciens itinérants, qui, au cours de leurs tournées, ont constitué un répertoire de musiques et chants traditionnels, issus des quatre coins d'Europe et de Scandinavie. Ces musiques, aux origines multiples, ont été réunies dans ce disque pour leur beauté et leur pureté.
Chaque morceau est unique, et a sa propre histoire. Mais tous portent les mêmes messages de joie ou de recueillement.
Olivier Milchberg : flûtes, contrebasse, bouzouki, arrangements
Simona Morini : chant, accordéon, direction artistique
Gitte Kielberg : chant, clarinette
Frédérique Lassuce : chant, guitare
François Monnet : chant, flûtes
Olga Lapszina : chant
Isabelle Barthélemy : violon
Enregistrement : Studio Muance

1.Kapela – 2.Sull – 3.Nigun – 4.Su pizzineddu – 5.The old klesmer band – 6.Za rietchenkoy – 7.Oy mamo – 8.Avinu malkeynu – 9.Fleur des bois – 10.Minon minauna – 11.Jouravly – 12.Zigan barba – 13.Gora gora – 14.Na ne tsora – 15.Ninanella –
Kapela is a band of itinerant musicians who have gleaned from their tours a repertory of traditional music and song from the four corners of Europe and Scandinavia.
This disk presents pieces of music of multiple origins which have been selected for their beauty and purity. While each piece is unique and has its own historical tradition, all bear similar messages of joy or inner communion.
« These songs, these melodies…we have captured them along the road of our journeys, encountered them as we crossed paths with other friends and musicians.
They carry with them the imprint of all who have played them and who have carried them all the way to us. Originating from Sardenia, Italy Occitania, Ukraine, Finland, Norway, from the Russian or Hungarian gypsies, they have traversed centuries and frontiers.
We have delicately enclosed them in this box, at least long enough for you to listen to them, but it won't take them long to escape and be on their way again, off to delight the ears of other wayfarers. »
« ZAGRAJ, KAPELA! » « Pay, musicians! »
In Poland, a « Kapela » is a small group of musicians.
This is also what the musicians shout at the end of a verse of song, before the instrumental refrain: « KAPELA! »
As a group, Kapela is not just another ordinary band.
An offshoot from the theater troup, « Théâtre des fêtes », the musicians of Kapela have woven the tapestry of their connections and acquired a sense of complicity through the theater, which has blessed them with a vision, a collective spirit, and above all, a sense of brotherhood.
The members of Kapela share a single passion : enconters.
Encounters with « the elders » whose memories lovingly nurture the ancestral melodies, the ancient treasures…
« We went to visit a shepherd in his hut and we spoke of one thing and an other…after about an hour, he launched into one of the songs of the village where he was born; he was from Sardenia. »
Encounters with the public, always enchanted to watch and listen to these marvellous songs which, all of them, are bearers of a story… a piece of history.
« One of our fondest memories… it was in Italy, in a tiny village. We had transformed an old abandoned chapel into a theater, and in the evening, the people who lived in the countryside all around the village came to hear us. »
To encounter all these people, those who give and those who receive, the musicians of Kapela have journeyed widely throughout Europe, Scandinavia and Russia.
Their travels and tours take them mainly to rural destinations, for the simple reason that it is there, where the roots of musical traditions are still alive, that encounters are personal and real; that the public reserves the warmest welcome.
« The most moving, the most succesful concerts take place in the simplest of locations: a forgotten village in the poorest of regions, an evening spent in an old barn, an audience of peasants and villagers come out of curiosity… and the magic takes over… and the celebration begins. A concert on stage cannot sustain the same intensity of emotion. »
The musicians of Kapela are all of different origins and have had dissimilar careers. None are graduates of conservatories. They have always favored the search for emotion through simple melodies over the assiduous practice of their respective instruments.